Join the #AnimateChange campaign
Share your resiliency and readiness actions with our new Animated GIFs!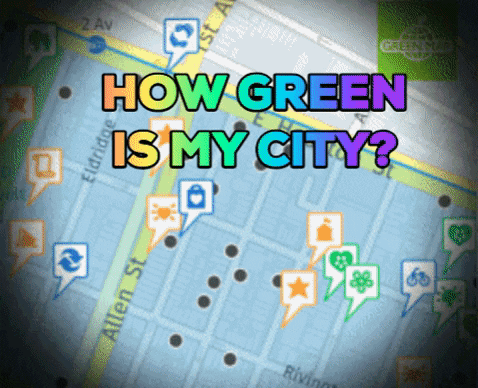 ​
With your phone, it's easy!
Visit giphy.com/greenmap to make your social media, texts and websites unforgettable!
Or, type in @greenmap when searching for a GIF.
Please tag it #GreenMap and #animatechange!
You can #AnimateChange on your Facebook, Twitter, Instagram, Pinterest, as well as your blog, text messages, emails, iMessages, etc. Green Map Icons are featured on some these animations, others were created by sustainable systems students. New to using Giphy? Find tips and embeds below.
Thanks to all who contributed to this project - you can too, using the how to guide here! We selected, re-mixed and posted at Giphy.com/GreenMap. Use these to amplify your positive actions!
#animatechange campaign created by Green Map System with support from LES Ready, new media artist Jamie Leo and Parsons School of Design Sustainable Systems class with Professor Jean Gardner during the school's Crisis Week: Ana Maria Cano Villazon, Binghang Chen, Siyu Hang, Sophia R. Hayes, Hyun Ji Jo, Ava L. Kershbaumer, Jiwoo Lee, Yea Sun Lee, Sunny Li, Maria Margarita P. Mapa, Alexa Murray, Valentina Outumuro, Hyunji Song, Ching Ju Su, Qian Sun, Haoran Wang, Siyi Zhang and Yunzhe Zhu.
Follow at facebook.com/greenmap too!
Tips:
Giphy is optimized for phones. In hand or on the desktop, you can select many formats at Giphy.com/GreenMap.
For a GIF to play on Twitter, you need to add the hyperlink at the end of your tweet. Or, when you are writing a post, click the Gif icon and search for GreenMap, click to attach.
For a GIF to play on Facebook, the link must be the first link in the post. Optional: remove URL once it's previewed.
You can download the GIPHY mobile app, too. For iMessage, open it in your app drawer. Search for GreenMap, and then drag and drop it in messages. To share via Instagram, tap the "GIF" button in your Instagram Story decoration area, then search for your sticker, tap, and place!
Tag it #animatechange and #greenmap so we can share this campaign's outcomes.
Designed to share openly, your comments and ideas are welcome - contact us!